Gut Boltenhof is one of the few preserved and closed estates in Brandenburg. Today, the estate still includes approx. 80 ha of land used for organic farming and approx. 3.5 ha around the actual estate with various stables, servant houses, manor house, park and zoo. Today the estate is run as a tourist and gastronomic business with 9 hotel rooms, 10 holiday apartments and a small café & restaurant in the manor house. As "Rittergut 2.0" the life of the estate is to be revived and the individual business areas are to be brought together to form a functioning unit. For this purpose, the approx. 800 sqm large former cattle hall has been extensively and carefully renovated.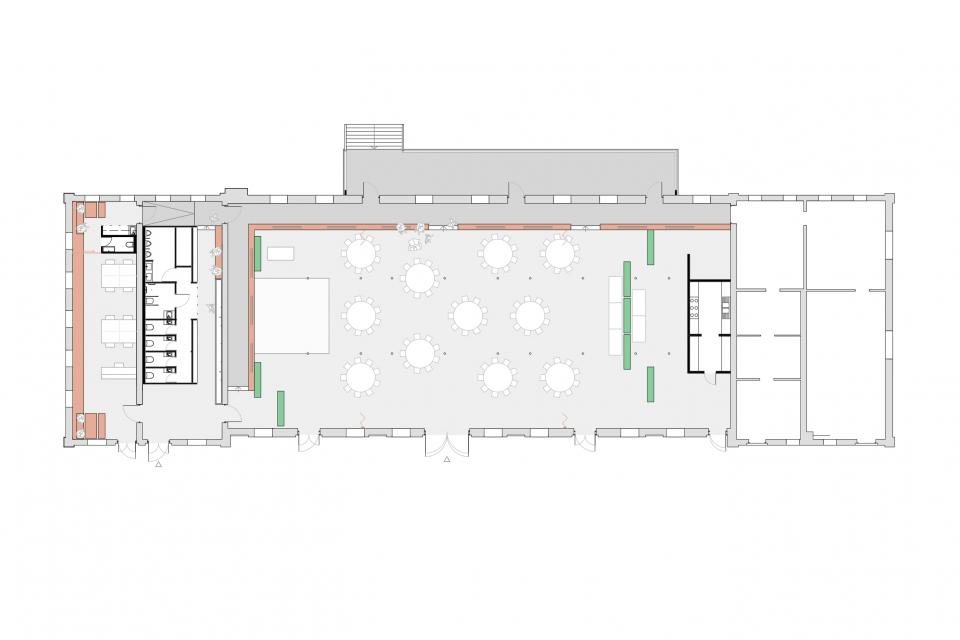 The interior of the stable consists of several areas: the large main stable, on the left two adjoining rooms, which were also used as a stable, and on the right two other adjoining rooms, which were last used as a slaughterhouse and workshop. The aim was to convert the stable into a multifunctional hall: a versatile space that on the one hand manages to convince with its rustic charm as a former cattle stable. But at the same time it also knows how to create a very intensive interplay between space and event and convinces with its unexpected contradictions on the one hand and the homely expected feeling on the other. In addition, the estate's own monumental value should be preserved and carefully underlined.
The new main artery of the hall is a piece of seating furniture that runs through the entire hall. This piece of furniture transforms the hall into a lounge and at the same time accommodates the technical supply lines. "Room-in-a-room" concepts ensure a sensitive handling of the existing stock. Modern concepts such as coworking and meditation in the countryside ensure a lively life on Rittergut 2.0, involving residents and preventing monofunctional celebrations of weddings.