In Berlin-Moabit there is a 100-year-old former porcelain factory, which was converted into a coworking space RaumStation in 2006. In 2008, the four floors of the factory were extended by a full storey, which already then visibly carried the theme of greenery to the outside. In 2020 the greenery was to be brought also into the building.
RaumstarArchitekten planned one floor to be converted into a green community office with a high degree of common areas. A 43 ft long green wall accommodates about 10 different tropical plants and brings the coworkers* back in contact with nature during their work. A special fixing system allows each plant to be freely positioned according to its needs. The use of hydroponic pot-in-pot systems and professional plant lighting ensures healthy and sustainable plant growth. The eye-catcher of the room is a 13 ft tall dead tree, which offers new habitat for various climbing plants. This not only improves the mood in the office, but also measurably improves the air.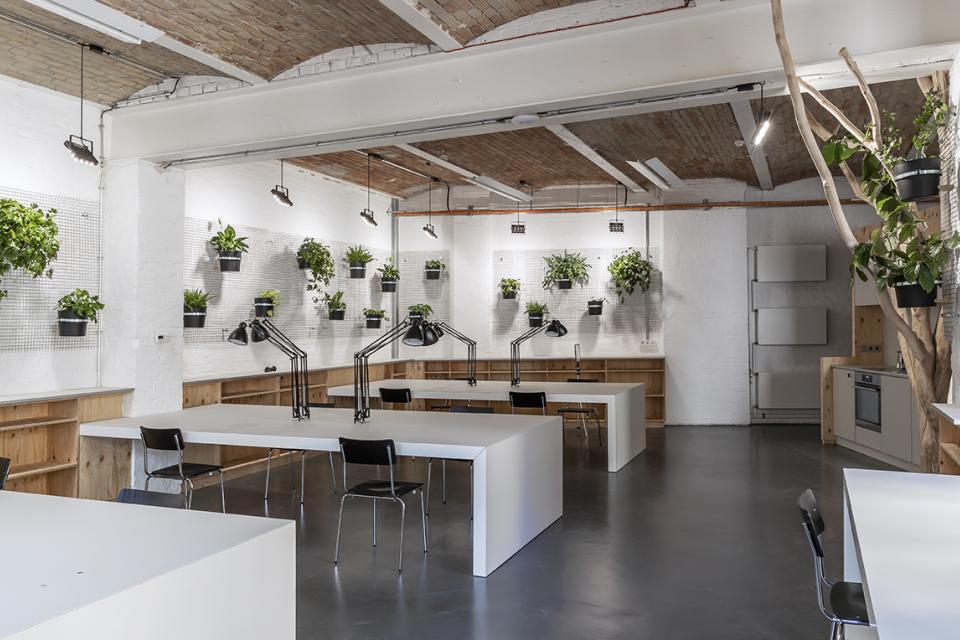 The architects restricted themselves to plywood, linoleum and steel for the interior fittings. The workplaces are the heart of an office. On the green floor 4 people work at each of the 3 spacious communal tables. All necessary ancillary rooms and functions of a community office are combined in a space-saving furniture cube as room-in-room. In addition to sanitary rooms and a kitchen, the cube also offers a soundproof place for telephone calls, a planting room for preferring edible plants and the so-called eyrie - a raised seating area on the roof of the cube for the green after-work smoothie.